| | |
| --- | --- |
| Marco | Fioramanti |
| Claudio | Bianchi |
| Ali | Kichou |
| Hadjira | Preure |
| David | Thompson |
| Eugenija | Demnievska |
| Vesna | Bajalska |
| Jean Luc | Moreau |
| Keith | Haring |
| Anton | Perich |
| Elisabeth | Frolet |
| Yiulia | Gazetopoulou |
| Ermanno Angelo | Senatore |
| Eva Rachele | Grassi |
| Maria Teresa | Schiavino |
| Rolland | Caignard |
| Enrico | Salzano |
| Anna Maria | Corbi |
Marco Fioramanti : painter/poet/performer. M.F. born in Rome on February 11, 1954. M. F.'s father: Renato Fioramanti engineer/pilot/writer. M.F. received degree in Civil Engineering from University of Rome in 1979. M.F. collaborated with Claudio Bianchi in Trattista Manifest in Rome in 1982. M.F. moved to West Berlin in 1983. M.F. co-painted, for Galleria La Salita, 100 square meter canvas laid on Ponte Sisto in Rome. M.F. opened to public M.F.'s Trattistambiente at Ansbacherstrasse 58, Berlin/Schoeneberg in 1985. M.F. installed self-painted Volkswagen against Berlin Wall in 1985. M.F.,performe/rdirector of newborn Trattista Berlin Group (with Christiane Kluth, David Thompson, Julie O'Grady), took part in Teatherfestival, Munich & Fringe Festival, Edinburg in 1985. M.F. met A.Ermanno Senatore & E.Rachele Grassi (Extrême Jonction). M.F.,with Trattisti, partecipated in "Olduvai" Laboratory in Rome, Naples,West Berlin, Stockolm, Algiers. M.F. moved to Barcelona in 1987-M.F. had important relationship with flamenco dancer Daniela Lobo, now danced with Angels- M.F. returned to Rome, worked with gallerist Ennio Borzi, in 1988. M.F. travelled to New York. M.F.met Robert Rauschenberg, painter/publisher Anton Perich, poet Indran Amirthanayagam. M.F. operated in Fiumara d'Arte (Italy) in 1990. M.F., performer/director of multi-media piece "Zeitgeist Berlin" in Palazzo delle Esposizioni, Rome in 1991. M.F. published first book of poems "Light to the indifference of everyday life" in 1991. M.F. travelled through China and Tibet in 1992.M.F. exhibited "Works:1983-1993" & performed with Extrême Jonction in Palazzo Comunale of Prato in 1993. M.F. mentioned in volume "La Pittura in Italia, Il Novecento/3, Le Ultime Ricerche", edited by Enrico Crispolti (Electa publishers) in 1994. M.F. exhibited "Spear's Name", installation with Zen garden, in Rome in 1995. M.F. travelled through Moroccan Sahara & worked in Asilah in 1995. M.F.invited to Midi-Pyrénees & installed open stone circle. M.F. published second book of poems "Intermittent Movement" & prepared anthology "Feeling Wor(l)ds" with I. Amirthanayagam, A.Perich, S.Sarritzu. M.F. moved to Paris/Créteil, reached Extrême Jonction , formed Cyberdada Group in November 1996. M.F.'s works in permanenet collections in Musée des Beauw Arts & Musée National (Algiers), Museum Mystique (La Valletta , Malta), Museum Haus Am Checkpoint Charlie(Berlin), Italian & foreign private collections.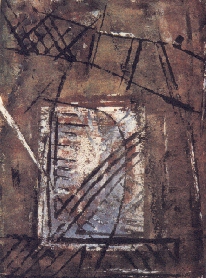 M. Fioramanti "Le vie dei canti"(IV)",cm.5Ox7O, acrylic et collage sur toile (Roma 1989)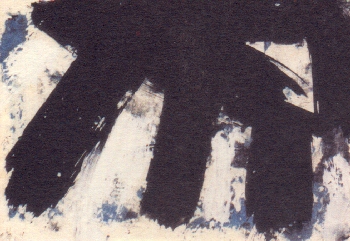 M.Fioramanti"Olduvai",cm.21x30,acrylic sur papier (Rome 1986)
Claudio Bianchi : was born in Rome. C.B.'s grand father was imprisoned in Germany by german army during the first world war. C.B.'s grand father run away-mostly walking-back to Rome.C.B.'s grand father found back his family in misery.C.B.'s grand father began a manual job and threw limestone in his eye to have money from insurence for his family.C.B. admired a lot his grand father, and took teaching by this demenaout. C.B. writed and published the Trattista Manifest with the collaboration of Marco Fioramanti-Rome 1982-giving birth to an intense activity of artistic group. C.B. realized several exibitions as laboratory in Berlin de l'ouest, Amsterdam,Rome and Paris in 1983. C.B. co-painted for Galleria La Salita square meter canvas laid on Ponte SISTO IN Rome. C.B. taked part of an happening of sculptures on Ponte S.Angelo in Rome in 1984. C.B. exibited in a one-man-show in Inter/Prise Gallery in Salerno. C.B. with M. Fioramanti exibited in Galleria S. Marco ( Trattista artists in the Balla's place) in 1986. C.B. formed OLDUVAI laboratory with Marco Fioramanti, Ali Kichou, Hadjira Preure, Angelo Ermanno Senatore, Eva Rachele Grassi, Christiane Kluth, David Thompson, Anna Maria Corbi, exibiting in Naples, Rome, Alger, Berlin de l'ouest, Stockholm in 1987. C.B. exibited in Centro Di Sarro , Rome in 1988. C.B. exibited in Palazzo degli Alessandri, in Viterbo in 1991..B. realized a one-man-show in the Gallery L'Officina di Gorgia, in Rome (Hommage to Chief Joseph) . C.B. exibited in Bassano in Teverina, near Viterbo (Falling Stars), in the historic center. In 1997 exibited in Rome: Gallery L'Officina di Gorgia (Painted in Spring). C.B. moved to Paris/Créteil reaching his old artistic friends exibiting with them in the New Gnac/Inter/Prise Gallery (Molecole d'amore)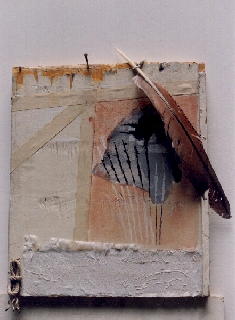 C.Bianchi "Una donna che ride",cm. 7Ox8O Tec.:plumes,papier de toilette, clous, couleurs sur toile.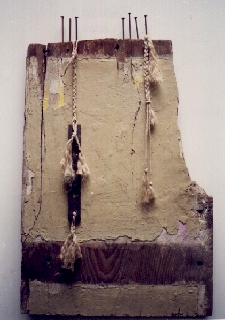 C.Bianchi,CC.C.BC.llll
ffC.Bianchi,"Capo Giuseppe", cm. 6Ox9O Tec.:cordes,clous,couleurs sur bois
Ali Kichou : was born in Algier in 1958.A.K. graduated in School of Fine Arts of Algier in 1978. A.K. an artiste,a painter, a sculptor, an engraver. A.K. came from secrets of touareg desert, bringing a trasuil of signes, of ancestors, of golds . A.K.'s painting are always full of signes, primitive expressions of ancestors. A.K. come to Italy in 1982. A.K. entered in "Trattista Group" in 1984, a natural developpement for his way of painting. A.K. taked part of the exibition "Sabian Tracks in Italy". A.K. in 1986 entered in Laboratory Olduvai (the name oh a place in Tanzania, considered till now the roots of humanity) with C. Bianchi, M.Fioramanti, A.E.Senatore et E.R. Grassi with several exibitions in Italy, W.Germany, Suede, and Algier. A.K. with Trattista group painted in public a marbled stairs in Neaples in 1986. A.K. in 1994 exposed an one-man-show in the gallery "L'officina di Gorgia " in Rome. A.K. with family moved to Montréal (Canada) in 1995. A.K. taked part to Cyberethnodada group of A. E.Senatore with E.R.Grassi in Créteil...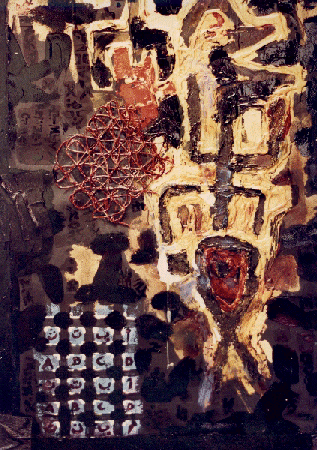 A.Kichou "Signes d'ailleurs" 1993 Tec. mixte
pAA
Eugenija Demnievska : artist of communication. E.D. born in Skopje, Macedonia. E.D., as teenager, extra at Atelier 212 Theater in Belgrade for Marquis de Sade show, under direction of Mira Trailovic. E.D., member of Black Theater Prometheus group connected with Atelier 212 Theater. E.D. studied painting at University of Fine Arts in Belgrade. E.D. exhibited Door, mobile object which could be moved by public, at Student Cultural Center Gallery, Belgrade in 1971. E.D. receveid scholarship. E.D. went to Osaka in spring , 1973. E.D. studied Japanese language & martial arts. E.D. went to Tokyo in autumn of same year. E.D. studied painting at Tokyo University of Arts Geijutsu Daigaku. E.D. exhibited paintings, composed of segments with 16 factorial possible combinations which could be continuously rearranged by public, at Tokyo Museum Ueno in 1976. E.D. travelled in Thailand , India, England, Ireland,Switzerland, Bulgaria,Italy, Romania,Greece,. E.D.exhibited in 40 one-woman shows & participated in more than 200 group exhibitions. E.D. relocated to New York in 1979. E.D. & Vasilije Bukcev realized Ephemeral Projects for Here And Now in Toronto-Newfoundland-New York ; all traces of which, except memory, destroyed. E.D. relocated to Paris in 1980. E.D. showed possibility of realizing same exhibit in several places simultaneously at Espace Fides, Paris in 1981. E.D. invited to participate in International Istanbul-Biennale, realized, with team, simultaneous interactive event Line:Instanbul-Belgrade, interconnected by telephone/fax in 1989. E.D. invited by Natan Karczmar to participate in project Art-Planet, Europe of Creators, Grand Palais, Paris. E.D., with team, realized Line: Paris-Ljubljana, interconnected by telephone/fax/video in 1990. E.D. invited friends to participate in project Curriculum Vitae 1, Segment/Porte Accatone, interconnected by telephone/mail/fax in 1995- friends responded... E.D. realized Curriculum Vitae 2, Segment/Porte Paris-Venice-Budapest-Skopje, interconnected by telephone /mail/fax/Internet, Galerie Multimedia Iesa(Paris).E.D. participated in Extrême Jonction's Cyberdada Inter/Prise in Créteil in December 1996...
Vesna Bajalska : an artist from Macedonia. V.B. born in Belgrade, Serbia in 1956. V.B. presently lived in Paris. V.B. 's paintings, like V.B.'s life, bold attempt to fuse two forces/ Byzantine melancholy & Western optimism. V.B.'s works gone beyond mere resemblance to Byzantine or Western art experiences, enabled V.B. to create artistic rules. V.B. receveid degree from Academy of Applied Arts, Belgrade. V.B.'s paintings increased essence of vision found in Western art experiences. V.B. had several solo exhibitions, including those at Atelier 212 (Belgrade) in 1985 & Gallery Leonardo (Paris) in 1996. V.B. participated in many group exhibitions in Paris, Stockholm, Skopie, Belgrade.
VVVesna
Jean-Luc Moreau Romain : born in Paris on May 17, 1946. J.L.M.R.'s great'grandfather: Mr. Lacroix, sorcerer lived in cave in Brie-Champenoise. J.L.M.R.'s family legend told about fight between wolf & goat in Middle Ages. J.L.M.R.'s ancestor killed wolf. J.L.M.R.'s grandfather: Victor Moreau, fought in World War at Verdun, wounded, awarded Légion & Grande Sarretière. J.L.M.R.'s grandfather, zouave (French infantryman) in Tunisia. J.L.M.R.'s grandfather interested in native culture; J.L.M.R.'s grandfather learned Arabic. J.L.M.R.'s grandfather, friend of famous calligrapher whose works had strong influence on J.L.M.R. J.L.M.R.'s grandfather escaped several colonial wars. J.L.M.R.'s grandfather had street named in J.L.M.R.'s grandfather's honor in Tunis. J.L.M.R.'s mother adopted by American army-many Americans part of J.L.M.R.'s multilingual childhood J.L.M.R.'s father: surveyor, mediated dispute with Dutch farmers whom (French) natives believed were German.J.L.M.R.'s father's work took him to many farms, where learned legends of country, where medieval castle usually found every two kilometers. J.L.M.R.'s father, much-loved storyteller, wrote several books. J.L.M.R. went to School of Applied Arts, where met professor of calligraphy who agreed to teach J.L.M.R. because of J.L.M.R.'s heritage. J.L.M.R.'s professor believed our epoch is open enough to spread his teachings. J.L.M.R. does so when he has time, especially for children. J.L.M.R. has degree from " E.N.S.E.T.", Paris & Grenoble (1963-1974). J.L.M.R. exhibited since 1965 in Paris, Grenoble, Havana, Verona, Madrid, Cognac, Stockholm; New York. J.L.M.R. produced several large-scale works & illustrated three books. J.L.M.R. collaborated with art magazine "Plages" since 1979. J.L.M.R. participated as calligrapher in performance works since 1989...
Keith Haring :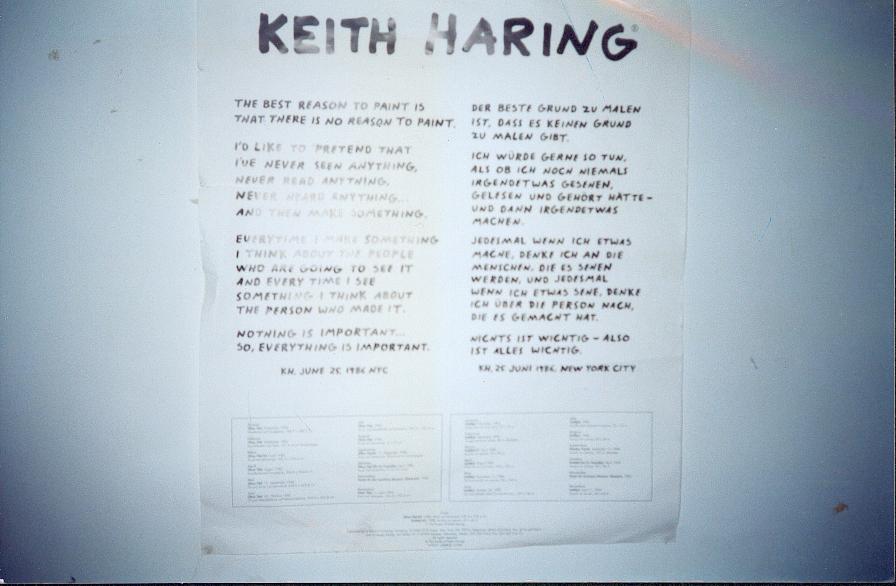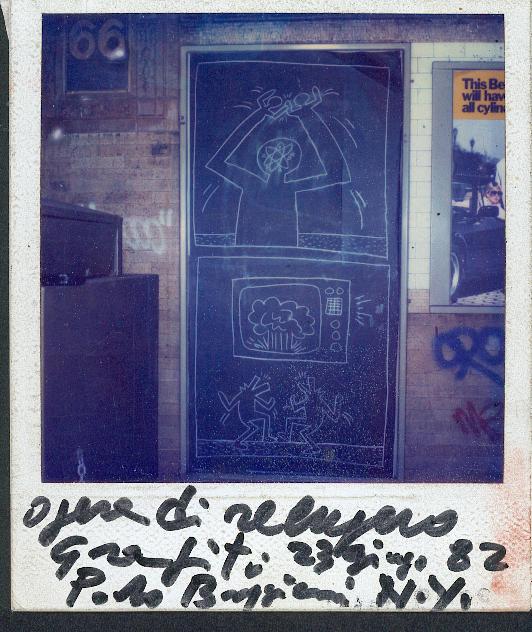 Anton Perich : is pleased to show his new work in Paris, where he studied, worked, and exhibited with the Groupe lettriste in the late 1960s. Anton Perich salutes his lettristes friends of Paris; his Trattista friends of Rome, Extrême Jonction, the entire paris/Créteil group, and Cyberdada...
Elisabeth Frolet : nata in Madagascar, vive e lavora a Roma. Laureata in Lingue e culture giapponesi all'Institute des Langues orientales de Paris ottiene poi un Masters in Scienze Politiche con specialità sul Giappone alla Columbia University. Nel 1985 pubblica una monografia su un movimento artistico giapponese (Il Mingei Undo) ottenendo il premio Shibusawa-Claudel. Mostre recenti:Roma,Villa Medici. Piotrkov Tryb (Polonia). Archivi,Collezioni, Musei:Marimura Art Museum (Tokyo),Galleria comunale d'arte moderna e contemporanea (Spoleto),Museo della Città (Piotrkov Tryb),etc.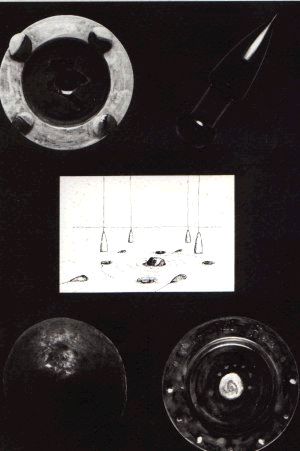 E.Frolet "Lo specchio del fiore" installation 1997
Raffaele Cuomo : architetto , é nato a Salerno nel 1952. E' stato autore negli anni '70 di composizioni per nastro magnetico e si é interessato alla " costruzione compositiva sonora " dello spazio architettonico. Negli anni '80 ha rivolto i suoi esperimenti essenzialmente all'interazione dei linguaggi diversi e all'aspetto multimediale della composizione. Ha realizzato progetti performance ed installazioni per : XVI Bienal de Sao Paulo,, Brasile, ottobre 1981 ; Poesia Gioia e altri confini, 4 composizioni per nastro magnetico, Brescia, giugno 1982 ; Environnement Mediterranéen, Università di Barcellona, Spagna, luglio 1982 ; Galleria A come Arte, "Metamorfosi ", composizione per nastro magnrtico, Napoli,, 1983 ; Escola Superior de Belas Artes, Esbal Lisbona, portogallo 1984 (col gruppo Ippogrifo) ; Ambientazione poetica, Rassegna internazionale di poesia visuale e sonora, Centro Einaudi-Electa, Brescia,1986 ; Castello ArechiII,giugno 1986 ;Présence italienne, Centro " Le Lieu ", Quebec, Canada, febbraio 1987 ; Centro Brescia, " Appunti di volo " installazione.,Brescia 1987 ; II Presentazione del Festival Internacional poesia viva, Galleria Municipal Amadora, Portigal 1988. Sue opere sono conservate all'archivio per l'arte italiana del '900 presso il Kunsthistorisches Institut in Florenz (istituto germanico di storia dell'arte) e presso la Biblioteca dell'Istituto di lettere ed arte dell'università federale di Pelotas , Brasile.
David Thompson : est né en Dorset, Angleterre. Le patrimoine qu'il a hérité, c'est la mémoire de la voix barytonne de son Père qui chantait alors qu'il soignait les poules, et les cours de piano qu'il a reçus, tout petit, de sa Mère. Adolescent, il était pianiste du Big Band de sa région. Il est devenu batelier, et plus tard journaliste et photographe dans les Balkans et le Moyen Orient, mais n'a jamais cessé de jouer, comme à Berlin et Stockholm dans les années 80 avec les groupes de danse/art plastique Trattista et Extrême Jonction et au festival multimédia Semi di Luce a Salerno (Italie) en 1987. Pendant les années 90 il est membre des Doctors of Dub, formation psychédélique audiovisuelle Londonienne, devenue culte parmi les Britanniques amateurs du Dub Reggae. En France depuis 10 ans, il enseigne piano, violon et harmonie, et accompagne films muets.
Anna Maria Corbi : critica e storica dell'arte, scrittrice
Enrico Salzano : fotografo


Maria Teresa Schiavino : scrittrice, poeta

Rolland Caignard : ricercatore, poeta
Mise à jour le :mardi 14 décembre 1999